It's the interior trend that feels like it's been around forever, and it's not going anywhere yet. Scandi design is as bright as it is refreshing with crisp minimalist undertones and luxury Hygge elements crafted to create comfort. From marble to fur, flocked velvet to cool woods, Scandi style creates a calming but nurturing environment designed to quiet even the of busiest souls.
We love Scandi here at Casa Lola, which is quite ironic given our typically tropical designs. Whilst we love bright and fun interior decor, we also have a peaceful need to explore all things Scandi. In my own home you'll find an entirely neutral base colour scheme from top to bottom. I think because I spend my days designing such vibrant pieces that I need that inner calm to help me switch off from my business day when I get home.
As you enter my home you're greeted with soft grey velvet sofas adorned with soft blush fluffy Mongolian cushions and a large quad pale grey sheepskin rug draped across the carpet. Floating white shelves adorn the walls with mini succulents and personal photos dotted across the display. Everything about my lounge whispers soft and serene, and that's just what I want when I walk through the door.
I love a mix of personal photos and simple prints and I am true to my brand mission statement when I say "it's time to surround yourself with things that make you smile".
You'll find simply styled photos dotted all around my home, capturing loving moments between mother and daughter, cuddles between a father and daughter, fluffy balls of fun we call the pets, and of course the laughter of a crazy 4 year old. I believe it's so important to have your favourite memories on display for yourself. After all, it can never be a bad thing to be reminded of your favourite times and the feelings they evoked within your heart.
With prints such as the Casa Lola Elsker™ you can combine your own photos with stunningly simple monochrome prints to liven up your living space. With a delicate personalised element, prints like these from www.casaloladesigns.co.uk provide the finishing touch to any monochrome or Scandi interior scheme. You can find the Elsker™ print here and you can also find the Elsker™ cushion here.
When it comes to texture elements of Scandi Design, sheepskins and hides feature regularly. I personally favour Icelandic Sheepskins for their more rough and ready appearance – a shaggier style with movement that's beautifully soft to the touch.
With companies like Hide Rugs providing only ethically sourced skins and hides, it's a way to incorporate luxury textures into your interior with the knowledge the fur has only been sourced as a bi-product. Of course, not everyone will want to use real sheepskins or hides in their homes, and there is an amazing range of faux furs on the markets that look and feel just like the real thing.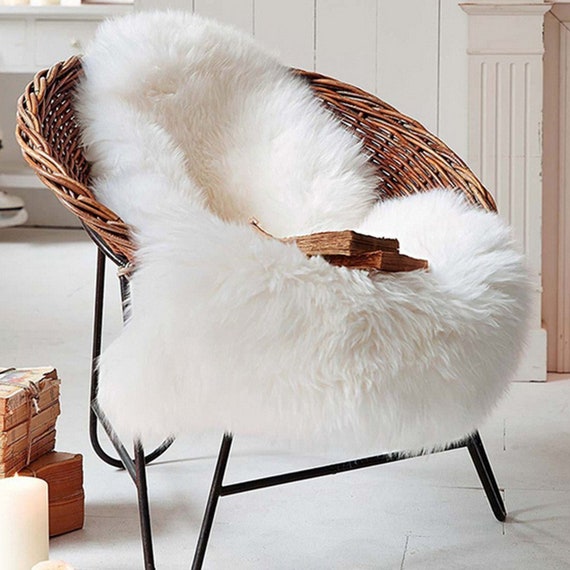 Scandi interior schemes are all about hints of luxury shining through a minimalist base. It's a clean and clear way of living, with prominence on keeping things organised to better your mental health and to promote an overall improvement in the quality day to day life. Although speaking about Scandi fashion, Christine Exsteen hit the nail on the head when she spoke to British Vogue, describing Scandinavian style as  "…very laid-back but at the same time sophisticated. It's uncomplicated…". When you work with a simple colour combination for the core elements and introduce subtle hints of sophisticated texture throughout, the overall effect is a calming oasis designed to sooth the mind and body.
We love the cushions from our Luxe range as accessories for this exact reason. Beautifully subtle with marble textures digitally printed onto the softest faux suede, you can combine sophistication and comfort in one fell swoop. Personalised with a name and initial (or plain marble if you prefer a true minimalist look) they bring an extra dimension to a relaxing and softly styled Scandi interior. With the option of a double sided design, you can even combine two different complimentary prints on the cushions, so that when you're really embracing your inner Hygge and mixing things up, you can achieve a whole new look with the simple flip of a cushion. You can find our amazing cushions here.
Want to learn more about the Danish notion of Hygge and how to create an embracing home, or how to adopt the Swede's love of Lagom? Check back for another blog post soon on the features of living a more contented life.
www.casaloladesigns.co.uk